The competitive 2019 Audi Q5 luxury crossover settles for just some additional feature updates for the year. While heated front seats and Audi Connect Care are standard, going as per the trim lineup, the Premium Plus receives a new Navigation system and a wireless phone charger, whereas the top-end Q5 Prestige trim settles for a self-parking system. When it comes to safety, Audi cuts no corners, and the 2019 Q5 bags the highest scores in the crash tests. It also comes with the Audi Pre Sense Basic safety features to cater to your safety needs.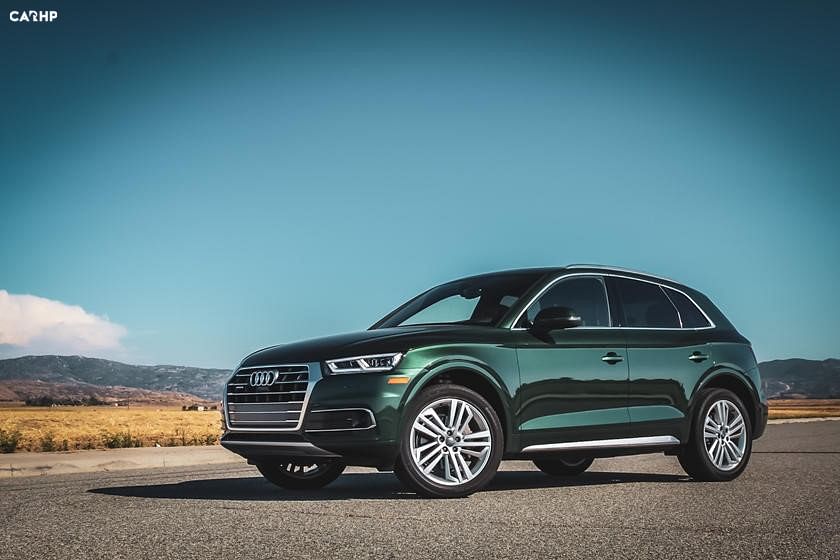 The 2019 Audi Q5 offers a sublime interior experience of luxury and comfort. It isn't the most luxurious in the Audi's stable but the balance of price and features is what makes it stand out. It is quite a looker inside out and is also very practical at the same time. Moreover, what makes it more intriguing is its performance; wherein it comes with a decent 248 hp 2.0L powertrain and excellent handling characteristics. The 2019 Audi Q5 comes with a price tag of $42,950 and it competes against the likes of the BMW X3, Mercedes-Benz GLC 300, and Volvo XC60.
As we just mentioned, Audi doesn't cut corners when it comes to safety. 2019 Audi Q5 uses a multi-material unibody chassis composed mainly of steel and aluminum. It makes the structure pretty strong and resilient. The Q5 also comes stacked with some Audi-specific driver assistance and safety features, which make it even safer. The Q5 Premium trim comes with all the basic safety features like automatic headlights, dynamic cruise control, hill descent control, rear-view camera, ABS, electronic stability control, and the like. Other standard features include Audi pre-sense basic, Audi Connect Care Emergency SOS, and Audi pre-sense city (a combination of forward collision warning, automatic emergency braking, and pedestrian detection systems).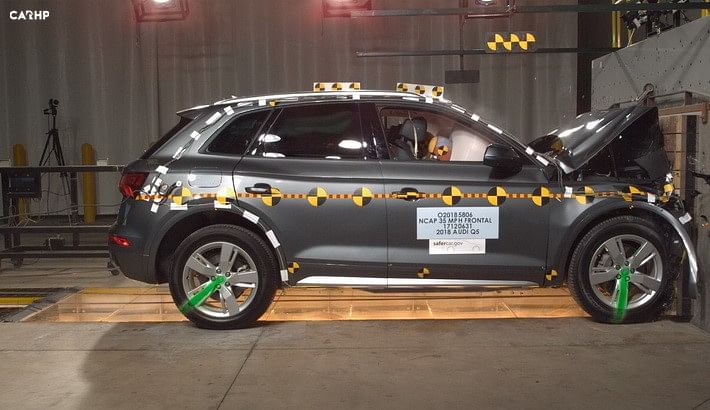 Upgrading to the Premium Plus and Prestige gets you Lane keep assist, Vehicle exit warning, Parallel and perpendicular park assist, Audi side Assist with rear cross traffic alert, Adaptive cruise control with traffic jam assist, Surround-view parking camera system and Head-up display. The only gripe is that Audi does not include full LED lighting for the base trim. Other than these standard features, the brand also provides dual-stage driver and passenger airbags with side guard curtain 1st and 2nd-row airbags and airbag occupancy sensors to form a safety canopy in the unfortunate event of a crash.
2019 Audi Q5 Key Safety Features
For the price, the 2019 Audi Q5 offers a very appreciable list of standard features. However, most of them are just rebranded names for other features you are already familiar with. No matter what, the Q5 comes stacked in terms of safety.
Audi Pre-sense Basic – This is a proactive safety tech that will prepare the occupants of the vehicle for impending collisions. Basically, when the system detects an imminent crash that cannot be avoided, it quickly closes the side windows and panoramic sunroof, pre-tensions the safety belt and also prepares the brake system for quick response.
Audi Pre-sense City- This system is a combination of Forward Collision Warning and Automatic Emergency Braking. It continuously monitors the front of the vehicle with the help of sensors and a camera. If the system detects an imminent collision, it immediately applies the brakes automatically thus avoiding an accident.
Adaptive Cruise Control w/Traffic Jam Assist - If you are in a traffic jam and you have turned your adaptive cruise control on, then this system will constantly measure the speed of the surrounding vehicles and compare it with your car's speed. It will adjust the speed of your car automatically with respect to the other cars in your surroundings, slowing down and speeding up when it deems necessary.
Audi Side Assist: It is a combination of a blindspot monitor and rear cross-traffic alert. If the system detects a vehicle approaching from the side or behind, the driver is notified by audio or visual warnings. This feature comes in handy while driving in the city or parking in tight spaces.
Parking System Plus – This system helps you park safely. The vehicle has sensors at the front and rear end of your vehicle and these sensors measure the distance from an obstacle when you are parking your vehicle. If they detect an imminent crash, they offer both visual and acoustic alerts to the driver. If the driver fails to react, the vehicle can apply the brakes itself.
Final Verdict
The 2019 Audi Q5 is an excellent vehicle as far as safety is concerned. The only gripe you might have with it is that the headlights are weak, but other than that, everything else is extremely well-built. It also comes with a strong list of standard safety and modern driver assistance features. You could also add more features if you go for the optional packages. Overall, the 2019 Q5 is an extremely safe vehicle and you should definitely check it out.
Important 2019 Audi Q5 Links: