The 2022 Ford Expedition gets a mid-life update this year which includes styling updates but the powertrain specs remain the same as the previous model year. The 3.5L 380 hp twin-turbo V6 offers plenty of performance and yet is pretty frugal in nature. The Ford Expedition 0-60 MPH is achieved in 5.7 seconds and it covers the quarter mile in 14.3 seconds.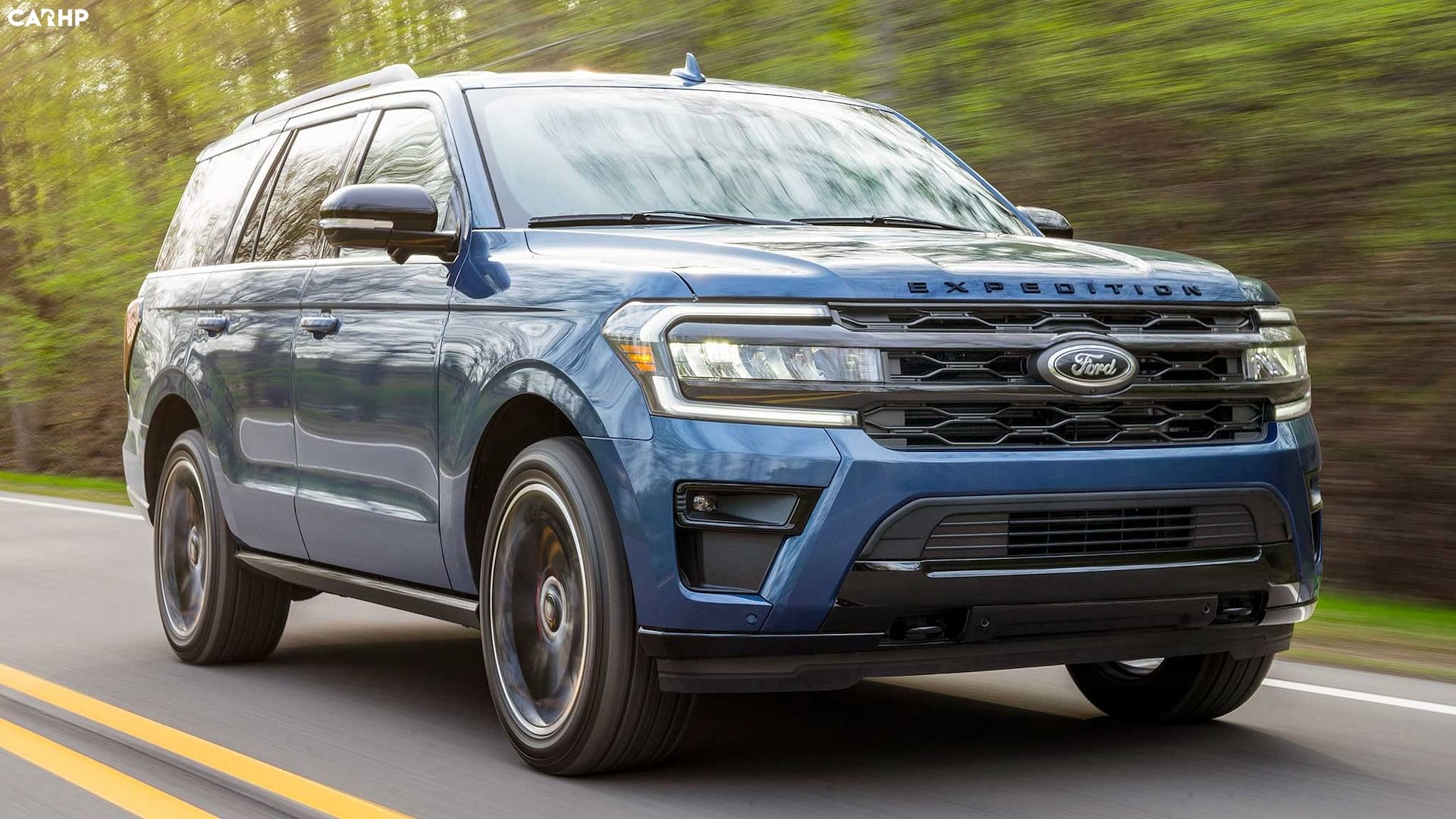 The 2022 Expedition offers similar performance with the 4WD drivetrain and both the models have the same 124 MPH top speed. The small capacity V6 engine does pretty well even in terms of its towing prowess, which makes it one of the best-performing full-size SUVs in the segment.
Rivals like the Chevrolet Tahoe and GMC Yukon are much slower than the 2022 Ford Expedition acceleration timings due to the lower engine output. The Nissan Armada employs a naturally aspirated V8 and yet it is almost as quick as the Expedition.
Powering the 2022 Ford Expedition is a 3.5-liter V6 that makes 380 hp @ 5000 rpm and 470 lb.-ft. @ 2250 rpm. It is mated to a 10-speed Automatic w/OD. The 2022 Ford Expedition takes 5.95 seconds to get to 60 mph from a standstill and - seconds for the quarter-mile.
2022 Ford Expedition Latest Updates
Mar' 22, 2023 : Get Ready to Ride: A Comprehensive Guide to the 2023 GMC Yukon/ XL Read More »
Mar' 21, 2023 : Let's Explore The Ford Expedition for 2023 Read More »
Mar' 16, 2023 : What You Should Know About Jalopy, And Why Dont Exist Anymore Read More »
2022 Ford Expedition 0-60, Top Speed and Quarter-Mile
Trim Name
0-60 MPH

XL 4dr SUV (3.5L Turbo 6cyl 10A)

XLT 4dr SUV (3.5L Turbo 6cyl 10A)

Limited 4dr SUV (3.5L Turbo 6cyl 10A)

Timberline 4dr SUV 4WD (3.5L Turbo 6cyl 10A)

King Ranch 4dr SUV (3.5L Turbo 6cyl 10A)

+3 More

6.2 sec

Platinum 4dr SUV (3.5L Turbo 6cyl 10A)

5.7 sec
2022 Ford Expedition vs. Competitor's 0-60, Top Speed and Quarter-Mile
2021 Ford Expedition 0-60, Top Speed and Quarter-Mile
Trim Name
0-60 MPH
Standing 1/4-mile
Top Speed
Braking (70 - 0 MPH)
Braking (60 - 0 MPH)

XL STX 4dr SUV (3.5L 6cyl Turbo 10A)

6.2 sec
15.5 sec
120 mph
192 ft.
129 ft.

XLT 4dr SUV (3.5L 6cyl Turbo 10A)

XLT 4dr SUV 4WD (3.5L 6cyl Turbo 10A)

XL 4dr SUV 4WD (3.5L 6cyl Turbo 10A)

Limited 4dr SUV (3.5L 6cyl Turbo 10A)

Limited 4dr SUV 4WD (3.5L 6cyl Turbo 10A)

King Ranch 4dr SUV (3.5L 6cyl Turbo 10A)

Platinum 4dr SUV (3.5L 6cyl Turbo 10A)

King Ranch 4dr SUV 4WD (3.5L 6cyl Turbo 10A)

Platinum 4dr SUV 4WD (3.5L 6cyl Turbo 10A)

King Ranch 4dr SUV (3.5L 6cyl 10A)

+8 More

6.2 sec
-
-
-
-
2021 Ford Expedition vs. Competitor's 0-60, Top Speed and Quarter-Mile
2020 Ford Expedition 0-60, Top Speed and Quarter-Mile
Trim Name
0-60 MPH
Standing 1/4-mile

XLT 4dr SUV (3.5L 6cyl Turbo 10A)

XLT 4dr SUV 4WD (3.5L 6cyl Turbo 10A)

Limited 4dr SUV (3.5L 6cyl Turbo 10A)

Limited 4dr SUV 4WD (3.5L 6cyl Turbo 10A)

King Ranch 4dr SUV (3.5L 6cyl Turbo 10A)

Platinum 4dr SUV (3.5L 6cyl Turbo 10A)

King Ranch 4dr SUV 4WD (3.5L 6cyl Turbo 10A)

Platinum 4dr SUV 4WD (3.5L 6cyl Turbo 10A)

+6 More

6.7 sec
15.1 sec
2020 Ford Expedition vs. Competitor's 0-60, Top Speed and Quarter-Mile
Show More Years
Important 2022 Ford Expedition Links: