The 2022 Honda CR-V Hybrid can sprint from 0 mph to 60 mph in 7.5 seconds and complete a quarter-mile run in 16.1 seconds. Powered by a 2.0-liter inline-four engine and two electric motors, the combined output stands at 212 hp and 232 lb-ft of torque. The hybrid powertrain is mated to a CVT and AWD drivetrain is standard across the EX, EX-L and Touring Hybrid trims.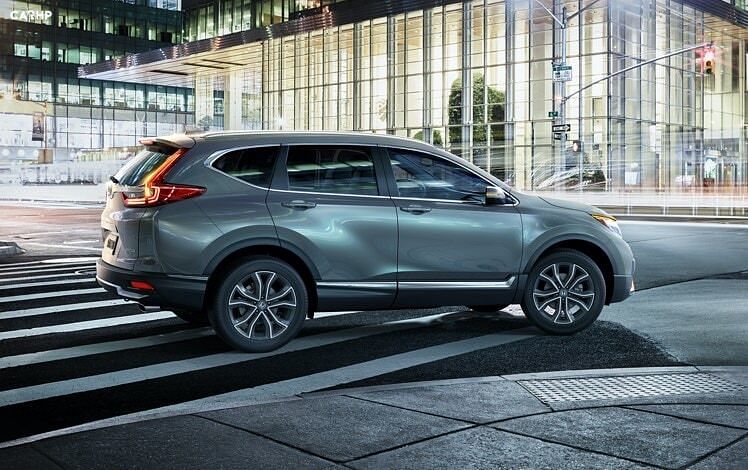 Some rivals like the Hyundai Tucson Hybrid offer better acceleration in terms of 0-60 mph and are more powerful as well. However, the CR-V is one of the best-selling midsize crossovers for a reason. It offers good fuel economy and refined ride quality which is much appreciated by many buyers. If you require better economy then the Ford Escape Hybrid can be a better choice.
Cars such as the 2022 Honda CR-V hybrid Crossover focus more on fuel economy rather than acceleration. Hence, they might seem slightly slower for the class.
However, with a 2-liter Gas/Electric I-4 making 212 hp @ 6200 rpm and 129 lb.-ft. @ 3500 rpm, that does not seem to be the case here.
The 2022 Honda CR-V hybrid Crossover takes 8.6 seconds to propel from naught to 60mph and the quarter-mile run takes - seconds. The 2022 Honda CR-V hybrid Crossover can reach a top speed of 124 km/h with this engine configuration.
2022 Honda CR-V hybrid Crossover Latest Updates
Mar' 22, 2023 : The Top 10 Cheapest Cars To Insure in 2022 Read More »
Mar' 15, 2023 : Top 10 Cheapest Honda Cars In 2022: Prices and Specifications Read More »
Mar' 10, 2023 : Let Us Go Through What The 2024 Honda CR-V Has To Offer Read More »
2022 Honda CR-V hybrid Crossover 0-60, Top Speed and Quarter-Mile
Trim Name
0-60 MPH
Top Speed

EX 4dr Crossover AWD (2.0L Turbo gas/Electric hybrid 4cyl 1CVT)

EX-L 4dr Crossover AWD (2.0L Turbo gas/Electric hybrid 4cyl 1CVT)

Touring 4dr Crossover AWD (2.0L Turbo gas/Electric hybrid 4cyl 1CVT)

+1 More

8.6 sec
124 mph
2022 Honda CR-V vs. Competitor's hybrid Crossover 0-60, Top Speed and Quarter-Mile
2021 Honda CR-V hybrid Crossover 0-60, Top Speed and Quarter-Mile
Trim Name
0-60 MPH
Top Speed

EX 4dr SUV AWD (2.0L 4cyl Turbo gas/electric hybrid CVT)

EX-L 4dr SUV AWD (2.0L 4cyl Turbo gas/electric hybrid CVT)

LX 4dr SUV AWD (2.0L 4cyl Turbo gas/electric hybrid CVT)

+1 More

9.3 sec
127 mph

Touring 4dr SUV AWD (2.0L 4cyl Turbo gas/electric hybrid CVT)

7.5 sec
-
2021 Honda CR-V vs. Competitor's hybrid Crossover 0-60, Top Speed and Quarter-Mile
2020 Honda CR-V hybrid Crossover 0-60, Top Speed and Quarter-Mile
| Trim Name | 0-60 MPH | Standing 1/4-mile | Top Speed | Braking (60 - 0 MPH) |
| --- | --- | --- | --- | --- |
| EX 4dr SUV AWD (2.0L 4cyl gas/electric hybrid CVT) | 7.5 sec | - | - | - |
| EX-L 4dr SUV AWD (2.0L 4cyl gas/electric hybrid CVT) | 7 sec | - | - | - |
| LX 4dr SUV AWD (2.0L 4cyl gas/electric hybrid CVT) | 7.5 sec | 16 sec | - | 118 ft. |
| Touring 4dr SUV AWD (2.0L 4cyl gas/electric hybrid CVT) | 7.6 sec | - | 86 mph | 143 ft. |
2020 Honda CR-V vs. Competitor's hybrid Crossover 0-60, Top Speed and Quarter-Mile
Important 2022 Honda CR-V hybrid Crossover Links: