Ford has unveiled the 2023 F-Series Super Duty Truck line-up. The 2023 F-Series Super Duty gets subtle changes to the exterior and interior. The biggest changes are to the tech and feature list. There's a new entry-level 6.8-liter V8 gasoline engine. Pricing for the Ford 2023 Super Duty Trucks hasn't been announced yet. You can expect it to be costlier than the 2022 versions, which start from $32,665.
---
Ford has taken the wraps of its 2023 F-Series Super Duty truck line-up. According to the CY2021 sales, Ford is the leader in truck sales in America. The Super Duty line-up brings in a chunk of those sales. The Super Duty now gets four engine choices with addition of a new entry-level 6.8-liter gas engine.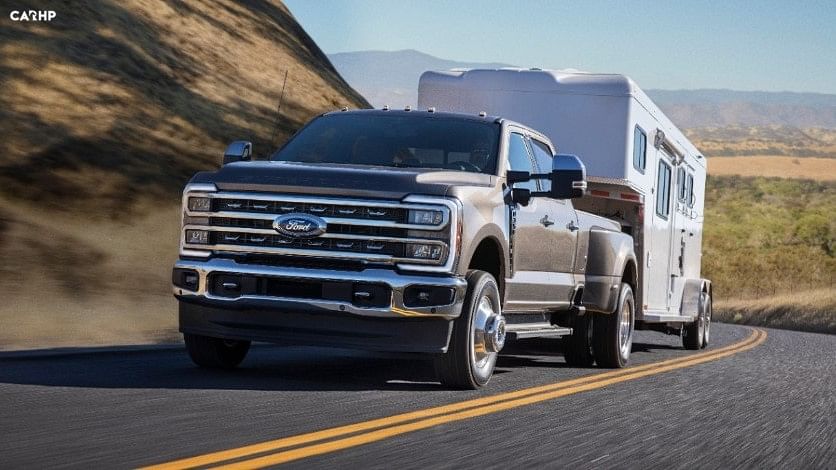 The 6.7-liter, Power Stroke diesel has enhanced performance. You can expect the 2023 Ford F-Series Super Duty prices to start from around $34,000. It will continue to square off against the refreshed Silverado HD and the RAM HD series.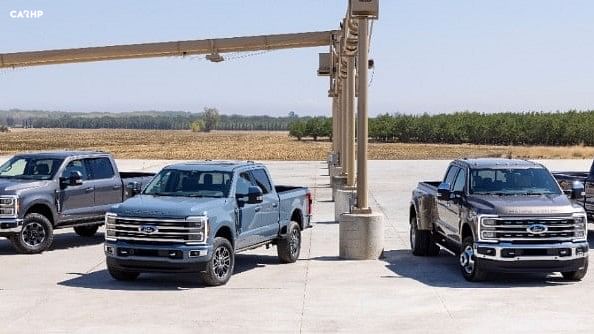 Exterior changes include seven new grilles for better cooling under heavy loads. Now every model can get LED headlights which is a welcome addition. The headlights are surrounded by C-shaped daytime running lights. There are functional, vertical side vents, which reduce under hood heat and improve aerodynamics.
From the sides the Super Duty retains clean lines along with revised tail lights. Inside the truck gets an optional 12-inch digital driver's display. There is a 12-inch infotainment screen on offer above XL trims. The XL gets a 8-inch screen as standard. It gets a color Head-up display and is the first truck line-up to get embedded 5G connectivity.
---
Also Read:
---
For customers, who want to stand out, Ford F-Series gets STX, Black and Sport appearance packages. The F-250 Super Duty and F-350 Super Duty models also get the XL Off-Road package for the single rear wheels. The Tremor Off-Road package gets additional upgrades for better off-roading. It gets 35-inch tires, a rock crawl mode and a new addition in trail turn assist.
In terms of Engines, the 2024 F-Series Super Duty gets four engine options. A new entry-level 6.7-liter V8 gasoline is the new arrival. The bigger 7.3-liter V8 gasoline gets best-in-class horsepower and torque figures, thanks to improved tuning and air-intake.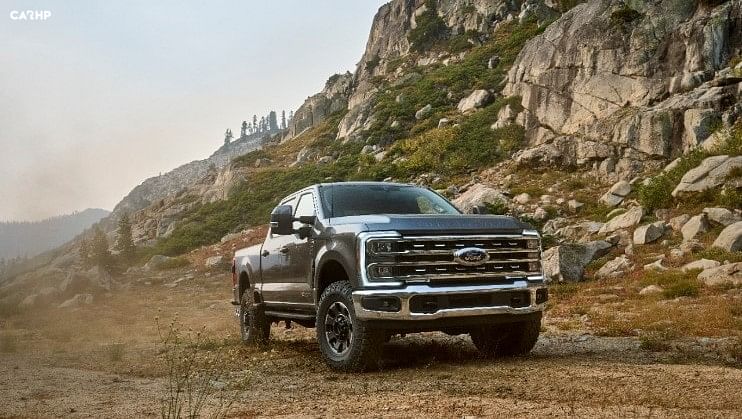 There are the familiar diesels, a 6.7-liter V8 Power Stroke engine block and a new and improved 6.7-liter turbo V8 Power Stroke. It gets higher output but Ford hasn't revealed the power and torque figures for the engines just yet. All the models now get 10-speed TorqShift automatic transmission as standard. Four-wheel drive is also standard from XLT trim level.
Ford hasn't even mentioned the load and towing capacity. However the 2023 Super Duty gets Pro Power Onboard with a 2.0-kilowatt generator for uninterrupted campsite parties.
To make towing easier, the 2023 F-Series trucks offer Pro Trailer Hitch Assist for automatic trailer back-up and hitching. A first in industry, secondary camera with sensors on top of the tailgate. It helps in backing up while the tailgate is open as well as in hitching gooseneck trailers. In addition there is a trailer navigation and blind spot monitoring system.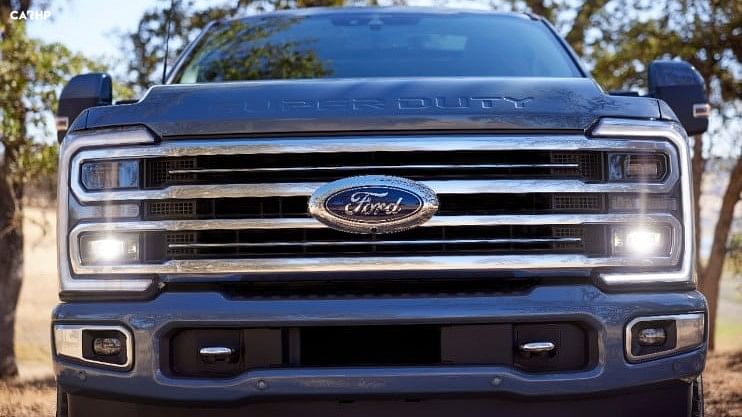 Safety features on the 2023 Super Duty also see improvements with adaptive cruise control with lane centering. It also gets stop-go function along with front and rear brake assist.
The 2023 Ford F-Series Super Duty prices and other details will be revealed near its on-sale date in early 2023. The 2023 F-Series continues with the Ford F-150 Super Duty, F-250 Super Duty, F-350 Super Duty and the F-450 Super Duty.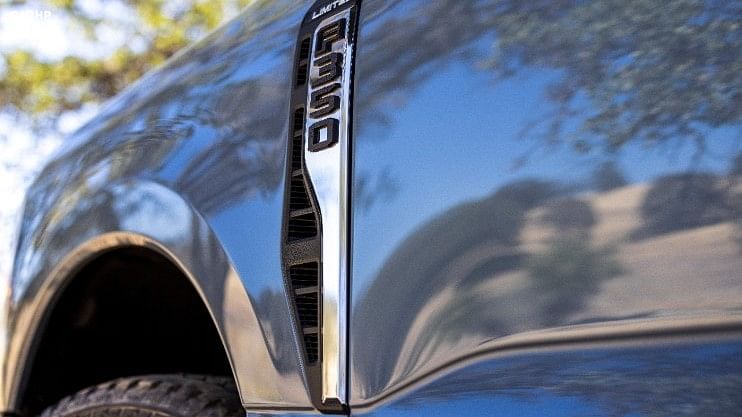 The prices for the new models will command a premium over the current models. The current price of the base F-150 Super Duty is $32,665, for the regular cab and it goes upto $78,770 for the Limited variant. This line-up of Super Duty will rival the Chevrolet Silverado HD, RAM HD and GMC Sierra series of heavy-duty trucks. They have starting prices of $39,995, $44,570 and $37,895 respectively.
---
Also Read:
---