The Japanese youth subculture related to customized motorcycles is commonly known as "Bosozoku." This culture emerged in the 1950s and became a trend in Japan during the 1980s and 1990s. This community is known for its distinctive and modified motorcycles that make quite a lot of noise. This biker gang is infamous for street racing, vandalism, rebellious behavior, and their savagery riding style.
---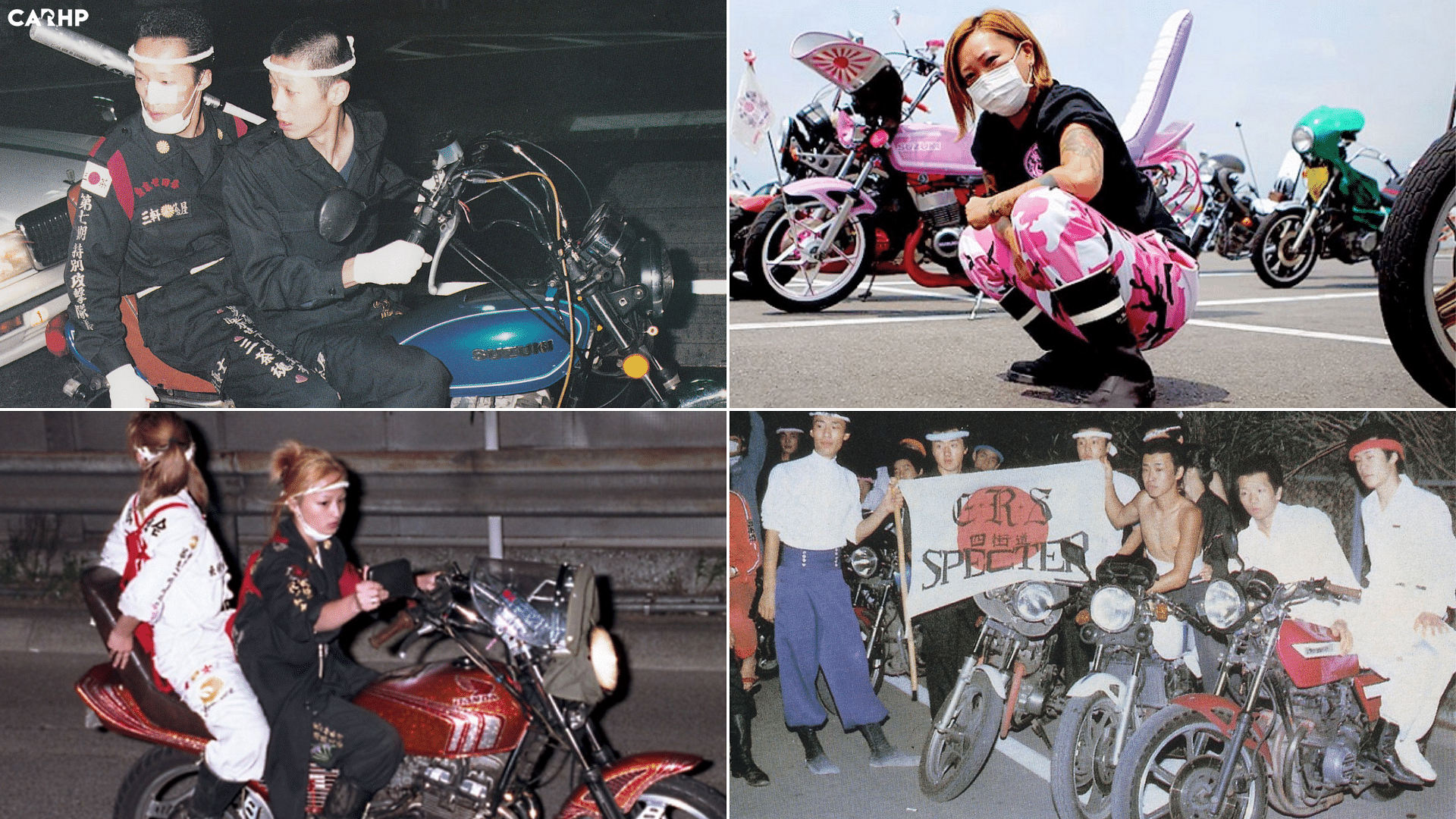 Bosozoku which translates to "violent speed tribe" is a Japanese biker gang well known for its custom motorcycles with oversized fairings, extended handlebars, and fancy paint jobs and stickers. The fairing of these Bosozoku bikes is quite bizarre but still looks cool for their hippie lifestyle. However, they are infamous for illegal street racing, creating noise with their bikes in crowded spots, vandalism, and rebellious behavior.
How It All Started:
The Bosozoku community came into existence in 1950. By 1982, there were about 42,510 members approximately. All the bikes had their own theme but also described their biker community in some way. The Bosozoku bike's sound is something that would definitely cause a migraine inside your head. There is also a Bosozoku girl biker gang known as Onna Bosozoku, considered an outlaw in Japan. They are no different from Bosozoku and engage in acts of violence to express their dissatisfaction with the system, often breaking car windows and other symbols of authority. Also, the very first members used to be former Kamikaze pilots who had survived the war.
These women are girlfriends of Bosozoku men but eventually got bored of being pillion riders and began to ride their own motorcycles. The bikes used by Bosozoku girl biker gangs are also highly customized to turn heads with flashy colors and noise, often with extreme modifications like oversized exhaust pipes and massive spoilers. Most of Bosozoku bike's parts were modified by themselves to flaunt their rides in whatever way they could. There are some hoax that relates them to Yakuza gangs who are quite infamous for their crimes and also a hot topic in the news. However, not all Bosozoku gangs are associated with Yakuza and most of them are simple groups with like-minded people who share the passion and love for customized motorcycles. In recent years, this group is diminishing quite quickly.
---
Also Read:
---
This Biker gang never referred to themselves as Bosozoku. Several Japanese biker gangs and cops got into riots in 1970, which caused huge chaos. This term was first used by the media, and it caught on. Some reports say Bosozoku might have drawn inspiration from the gang moniker Kaminari Zoku. These were the initial founders of the gang—ex-military Kamikaze pilots. They were eventually supplanted by younger individuals who were with the gang right from the start.
Most Bosozoku bikes were customized Honda CB400Fs, Kawasaki Ninja Zephyr 400, and Suzuki GS850 with loud exhaust pipes, tucked-in Shibori handlebars, switchblade headlights, Rocket-cowl fairings, tall Sandan pillion seat rests, and just about every other modification that would scare the bystanders. Now, Let's talk about these bikes.
3. Kawasaki Ninja Zephyr 400: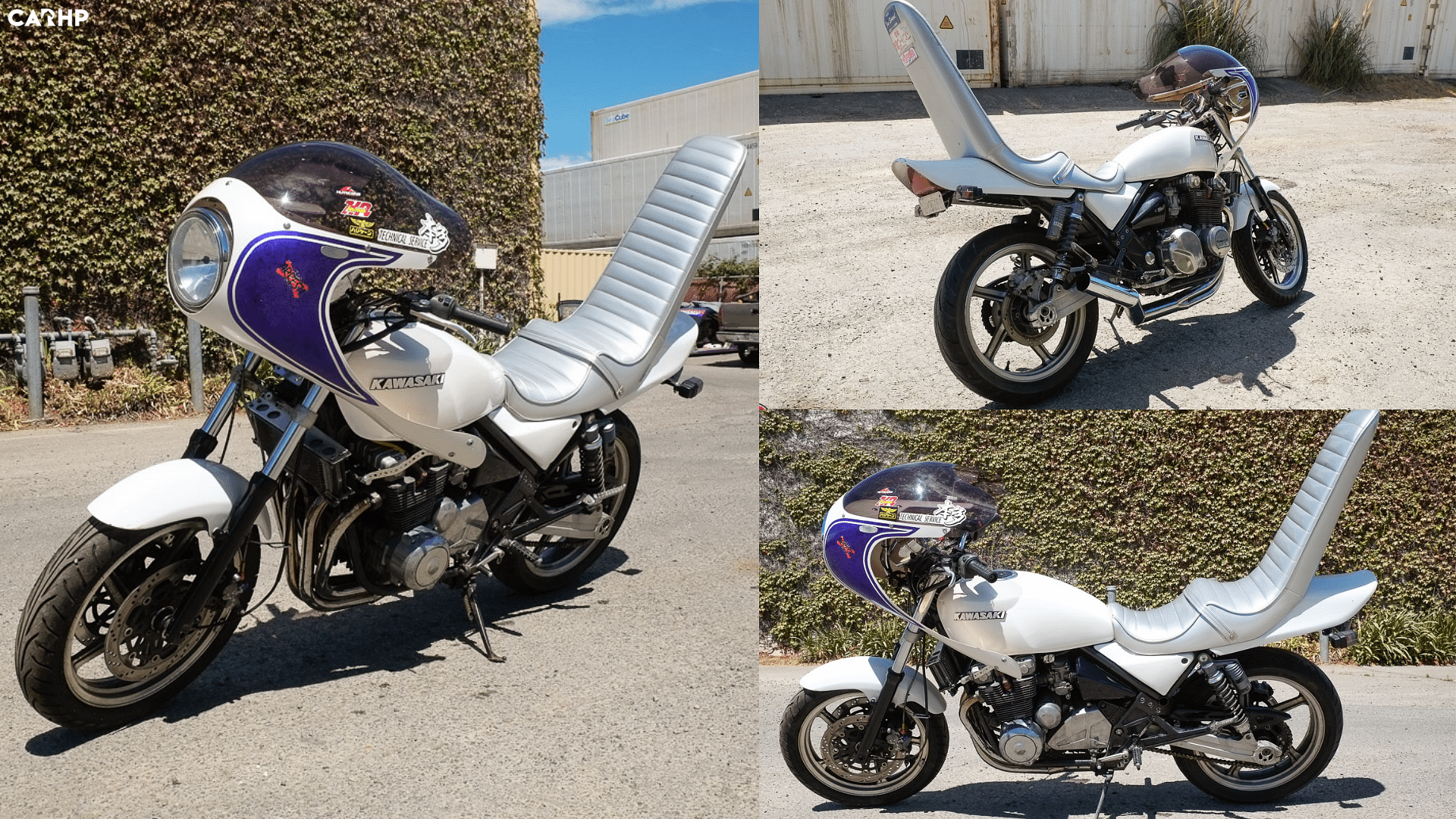 The Kawasaki Ninja Zephyr 400 is an entry-level naked bike that was produced from 1989-1994. Most bikes used were from 400-600 cc with the Kawasaki being one of the common bikes used by them for its raw power and superior performance levels. To make it more aggressive, all the Bosozuko bikers made modifications by replacing louder exhausts.
| Kawasaki Ninja Zephyr 400 | Specs |
| --- | --- |
| Price | N/A |
| Engine | 0.4L Inline-4 |
| Horsepower | 47 hp |
| Torque | 20.7 lb-ft |
| Transmission | 6-speed manual |
| Major Modifications | Exhaust pipe, paint job, Shibori handlebars, rocket cowl fairings |
The Kawasaki Ninja Zephyr 400 uses a 0.4L inline-4 engine rated at 47 horsepower and 20.7 lb-ft of torque, hooked to a 6-speed transmission, the Zephyr 400 could hit a top speed of 118 mph, making it one of the fastest bikes under 600cc even today.
2. Honda CB400F: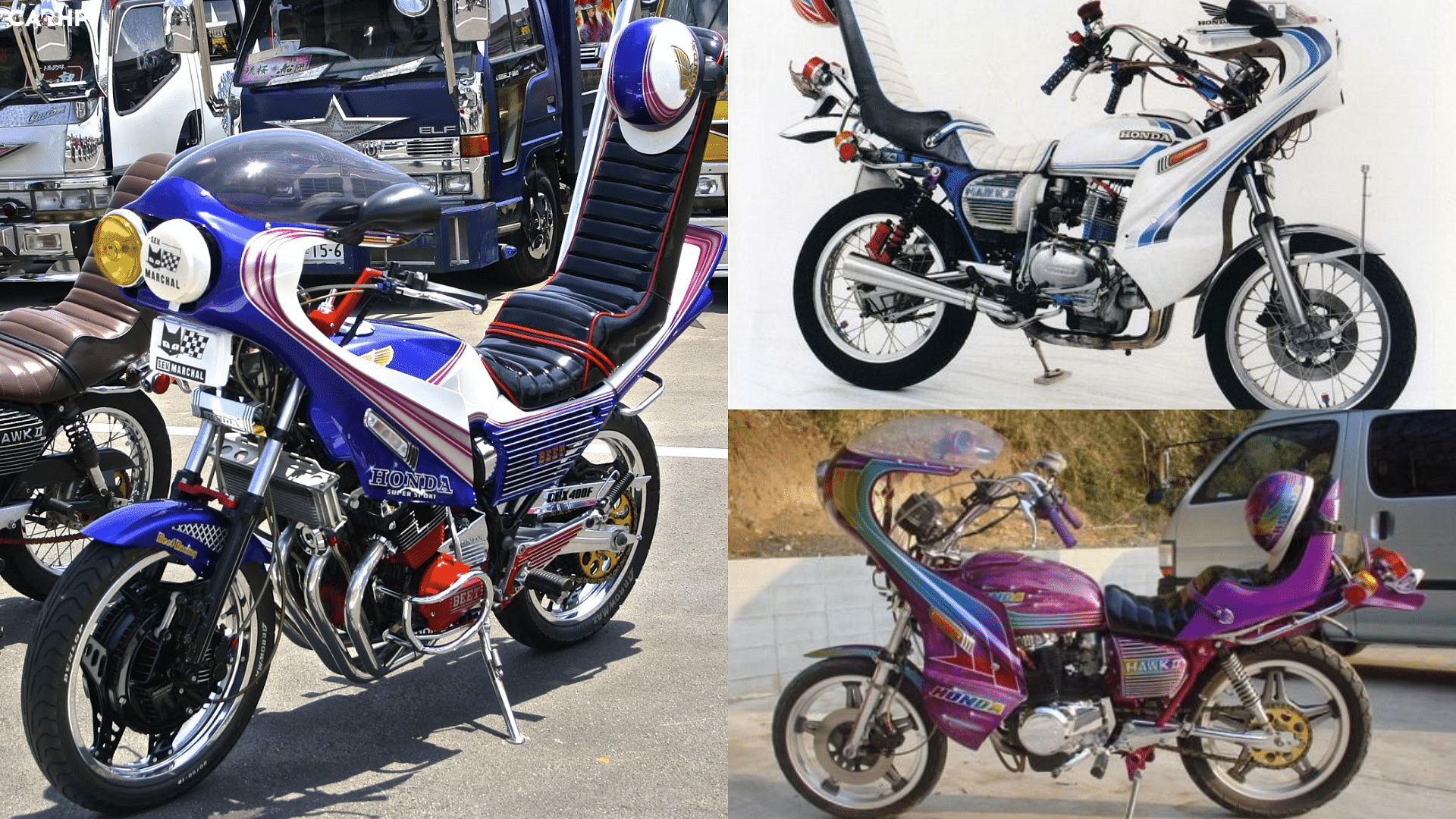 The Honda CB400F is a legendary motorcycle from the Japanese automaker. It was launched in 1975 and produced until 1997. It is among the most commonly used bikes of the Bosozuko biker gang for its affordability and wicked 400cc inline-4 engine. The CB400F was first introduced in 1975 and was designed to be a compact, lightweight, and legit quick motorcycle which makes it almost perfect for Bosozuko bikers.
| Honda CB400F | Specs |
| --- | --- |
| Price | N/A |
| Engine | 0.4L Inline-4 |
| Horsepower | 37 hp |
| Torque | 24 lb-ft |
| Transmission | 6-speed manual |
| Major Modifications | Exhaust pipe, paint job, Shibori handlebars, rocket cowl fairings |
The Honda CB400F comes with a 0.4L inline-4 engine that generates 37 horsepower and 24 lb-ft of torque. With this engine, the CB400F is capable of reaching a top speed of 103 mph which is quite impressive for a bike that was launched in 1975.
1. Suzuki GS850 G: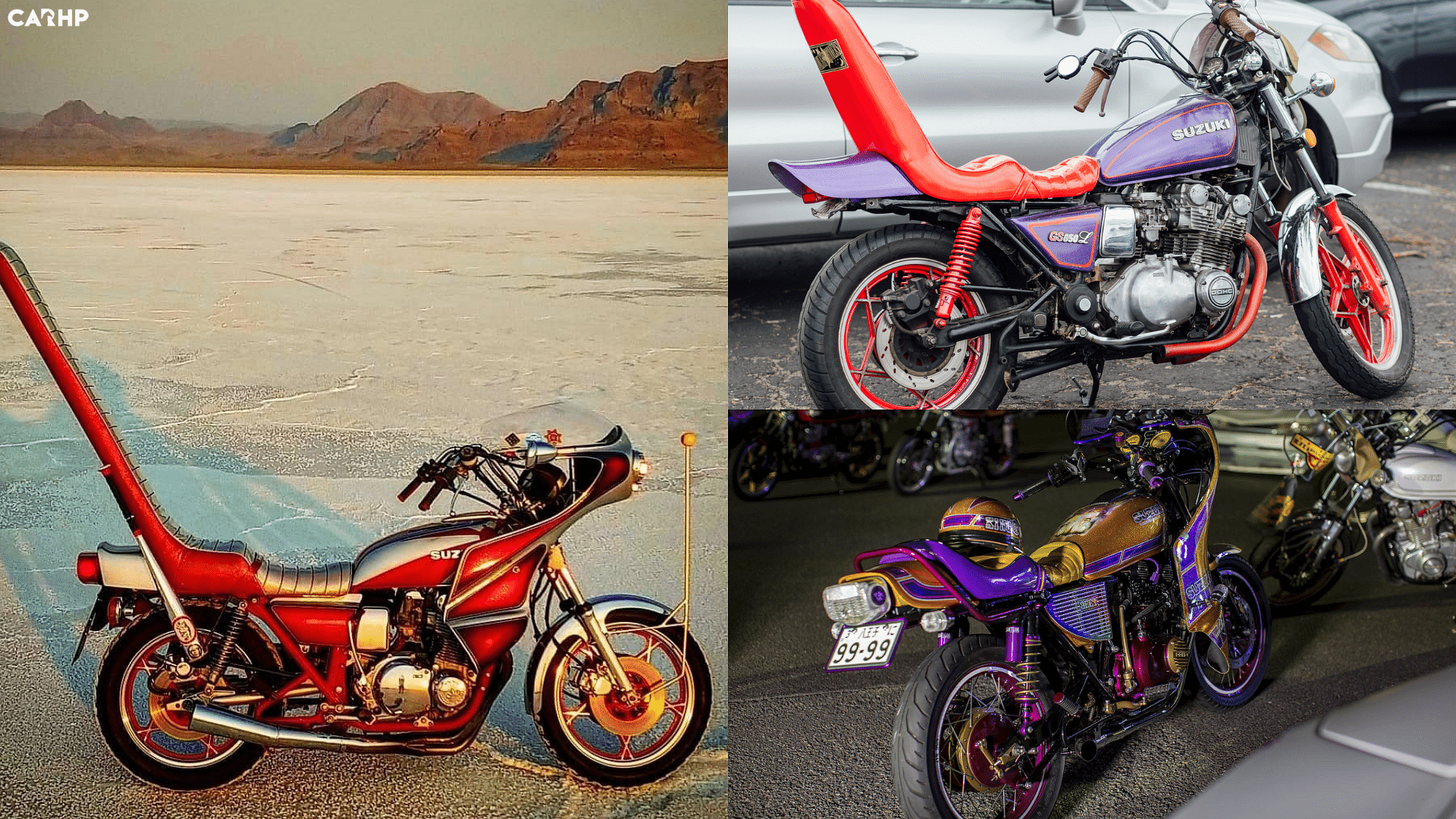 The Suzuki GS850 G is a classic naked motorcycle that was first introduced in 1978. It was designed as a powerful touring motorcycle with around 78 horsepower. The GS850 was notable for its smooth power delivery and comfortable riding position and lightness which made it a popular choice among the Bosizuko riders. It also featured a range of contemporary technologies for the time, including dual front disc brakes, air-assisted front forks, and a hydraulic clutch.
| Suzuki GS850 | Specs |
| --- | --- |
| Price | N/A |
| Engine | 0.4L Inline-4 |
| Horsepower | 78 hp |
| Torque | 47.9 lb-ft |
| Transmission | 5-speed manual |
| Major Modifications | Exhaust pipe, paint job, Shibori handlebars, rocket cowl fairings |
Just like the CB400F, the Suzuki GS850 is also a naked motorcycle but with more power owing to its 843cc engine that produces 78 horsepower. Hooked to a 4-speed transmission, the GS850 is capable of reaching speeds up to 123 mph which is superbike territory considering its age.
Fall of Bosozuko Gangs:
In recent years, the popularity of Bosozoku has declined significantly, with fewer than 7,297 members reported in 2012. This decline has been attributed to several factors, including increased law enforcement crackdowns, changing attitudes towards motorcycles in Japanese society, and a shift towards more individualistic youth subcultures. In 2004, the new government's road traffic rules went into effect. By 2011, the Japanese National Police reported that there were 76 groups instead of 507 and that the number of Bosozoku bikers had decreased from 42,510 to 9,064 The police were given more authority to stop and arrest bikers who were riding recklessly in groups. Due to the global economic recession, the bikers found it difficult to save enough money to modify their rogue bikes. This made most people shift from riding powerful motorcycles to scooters. Many quit wearing flashy clothes and stopped riding in large groups. It is indeed the downfall they didn't see it coming.
---
Also Read:
---