Coming off a major redesign last year, the 2013 Toyota Camry sets off for this year with minor feature changes. For sale in over 4 varying trim levels, the Camry L trim, starting at a price of $22,235 now receives a 6-inch central display system as standard, whereas the top-tier XLE trim gets a new rear cross-traffic functionality safety system. Also available is a new upgraded door panel across all trims. Furthermore, building up on the Camry's best-selling attributes is the SE trim's interior styling enhancements, including unique leather upholstery all throughout.
2013 Toyota Camry For Sale
The 2013 Toyota Camry starts off at a Manufacturer's Suggested Retail Price (MSRP) of $22,235 for the base L trim, while the top-of-the-line premium XLE trim is priced at $24,855. The mid-tier LE and SE trims are priced at $22,680 and $23,400 respectively. Both the SE and XLE trims can be powered by either of the Inline-4 or the V6 engines, with the latter setting you back by an additional $5000 on top of the base price. It's also a good option to go for the Used Camry models, as the average prices for the same range from $9,600 to $16,000, depending on various factors. Also, the true cost to own the Toyota Camry will cost you around $22,800 spread over a period of 5 years.
Toyota Camry Buying Advice
The sportier 2013 Camry SE trim with the potent V6 engine, and plenty of upgrades such as the sport-tuned suspension, 17-inch alloys, heated exterior mirrors, sport seats, and exclusive exterior styling enhancements make it all the more worth it for the nominal price of $23,400. Now in case, you're looking to go for an older Camry model, best sure to check out the 2012 Camry, as part of the new generation it was put through a complete redesign, with plenty of new engine options and feature upgrades too. Going further beyond the 2012 Camry wouldn't be a wise choice as such.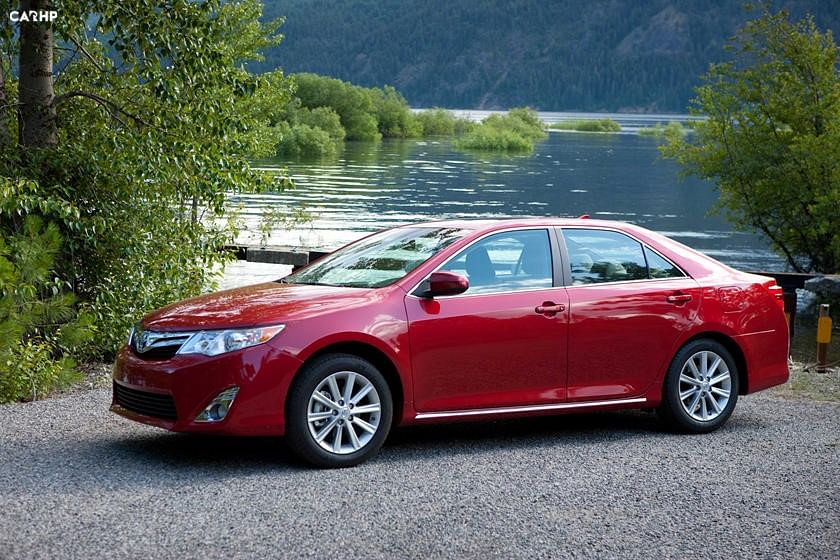 On the specs front, the existing Camry is much more powerful than the previous-gen Camry, with it getting three powerful engines, including the Inline-4, the V6, and the 156 hp 2.5L hybrid powertrain. The lower-powered Camry hybrid also manages to deliver impressive EPA estimates of 40/38 MPG in the city and highway respectively. The Toyota Camry's significant reputation for practicality and reliability is well known as it goes up against the likes of Ford Fusion, Nissan Altima, and Honda Accord.