Affordable and reliable in all senses, the 2019 Toyota Camry is back with a better exterior design layout that was brought to light with the 2018 redesign and also superior driving dynamics. With a $450 hike in price from last year, the 2019 Camry gets plenty of upgrades for the year, including standard Apple CarPlay and Wi-Fi hotspot. For Sale, the midsize sedan also gets numerous exterior paint options. On the specs front, the Camry is available with a standard 2.5L inline-4 engine, and an optional 3.5L V6 that is available with the XLE and XSE trims. With decent power figures on offer, the fuel efficiency of the Camry is also pretty impressive, with the Hybrid Camry returning a massive 51 MPG in the city.
2019 Toyota Camry For Sale
The 2019 Toyota Camry starts off at a Manufacturer's Suggested Retail Price (MSRP) of $24,095 for the base L trim, while the top-end XSE V6 Camry is priced at $34,850. The next-in-line is the LE trim, which brings plenty of creature comforts to the lineup, with a price of $24,600. Further, for an added premium of $5000 on top of the base XLE and XSE trims, you can get both the XLE V6 and XSE V6 Camry trims respectively. The average price list of the 2019 Camry ranges from $25,005 to $34,916, based on a number of metrics. Also, the average five-year cost to own the 2019 Camry rounds up to about $26,500.
Toyota Camry Buying Advice
With adequate power on offer and the advanced set of driver-assistance features, all standard from the base trim onwards, each and every trim of the 2019 Camry is perfect in its own way. Although, with the new updated infotainment system along with an 8-inch touchscreen on offer, the Camry XLE V6 trim seems to be the best and most viable choice of all. In terms of the Older car market, the 2016 Camry, which brought to us the new SE edition is a decent choice. Further, if you're looking for a fairly newer MY, the 2018 Camry, which was fully redesigned, and also came with the introduction of new engines to the lineup, is the best older Camry out there, as you can get it for a decent price.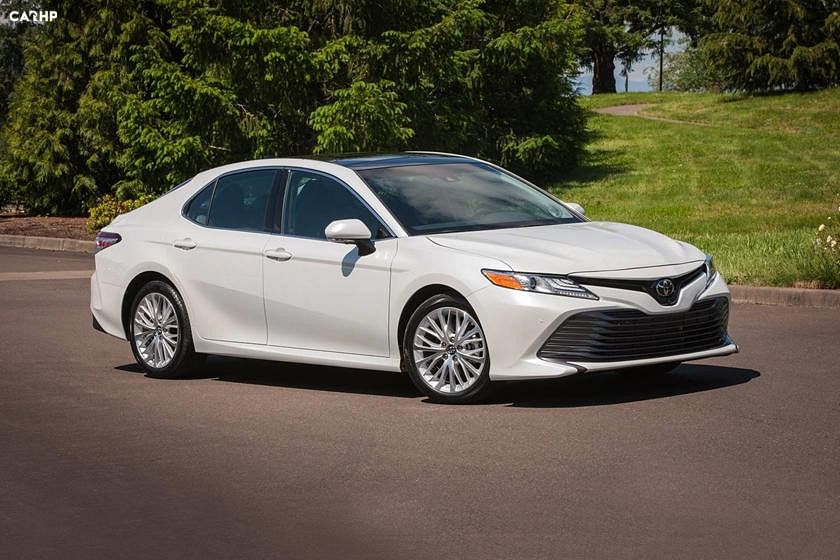 On the safety front, all of the trims of the 2019 Camry get Safety Connect as standard, which includes emergency and roadside assistance. Toyota also delivers on a spacious interior front, with plenty of feature updates for the year. Both XLE and XSE trims get an 8-inch infotainment unit as standard, along with a premium JBL stereo system. The indestructible Camry sedan goes up against the likes of Ford Fusion, Nissan Altima, and the Chevrolet Malibu.